Have you seen this around blog land??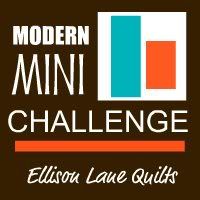 What an opportunity to try out something new. I decided to join up but have keep it pretty hush, hush in case it didn't eventuate. It has been hosted by Jennifer from
Ellison Lane Quilts
This was just the chance I needed to pull out some of my modern fabric collections and play around. I was inspired by the
Octagonal Orb Block
that appeared in the Modern Quilt Guild's 100 days - Weeks of Blocks that appeared on my Facebook. I am a fan of Elizabeth Hartman from
Oh Fransson
and she adapted this block from a pillow design. You can read more about it
here
.
So the fabrics I decided to use were Tula Pink's Prince Charming Range. I purchased some of her 6" charm packs. Six to be exact. I also have some yardage tucked away for just the right project.
I added some Kona Medium Grey into the mix as my background. It was a super easy block to put together. There is a bit of preparation work to have all the fabric cut. But the block sewed together quickly. I put it together in one evening. Elizabeth's instructions and pictures for the block are very well done. I didn't find myself having to go over instructions to make the block.
I decided to play around a bit with what fabrics I would use in the rings. I didn't use any of the aqua/pink/red range in the mini challenge and stuck with the greens, olives, aqua, teal and yellow. I am really happy how it turned out. I added 2.5" border around the block.
I used my walking foot to complete some straight line sewing. I wanted to keep the pattern of the Octagonal Orb in the quilting. Around each ring I used my walking foot as a guide and quilted next to the seam line. I used a matching grey thread as the dark thread did nothing for me. I decided as I quilted the mini quilt that I wanted the Kona background to have some more feature. I used more quilting lines keeping with the Orb pattern to complete this.
The binding is Kona Coal. I thought that by adding the dark solid, it would frame it more.
My backing is an aqua and white check. Can you see the detail of the quilting???
Modern Mini Challenge
Finished Quilt Size:
21" X 21"
Fabric:
Tula Pink's Prince Charming 6" Charm squares, Kona solid in Medium Grey and Coal. Aqua and White check for the backing.
Pattern:
Oh Fransson's Octagonal Orb Block
Quilting:
Straight line quilting.
Made for:
The modern mini challenge with Ellison Lane Quilts
Completed:
March 2012
So what do you think?? I have a new modern wall hanging for my house. Don't know where it is going yet but there is opportunity everywhere. Or it happens to be my sister's birthday this week (6th March). What a birthday present!!